I/O Signal Conditioning, Probes, Thermosensors and Actuators
Eurotherm's wide range of signal conditioning, sensing and actuation equipment is designed for the user to get the best from your process with accurate, reliable performance. These products offer quality solutions for a range of applications from furnace to atmosphere control systems. The complete range includes accessories and quality control products to ensure you get everything you need for a complete solution.
Action range Instruments provides the signal conditioning industry the highest quality, most innovative solutions to remote signal conditioning and isolation applications. Action defined the standard for accuracy and reliability and our focus on technological innovation continues to raise that standard. The people behind the Action Instruments brand are devoted to understanding your needs and overcoming obstacles to the collection and transmission of industrial automation process signals.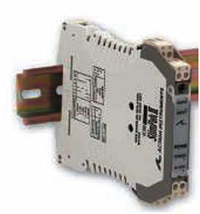 Every Action product is designed for easy installation, operation and maintenance. Whether you are amplifying or splitting signals, conditioning sensor outputs, isolating grounding problems, or adding more drive to current loops, Action's complete product selection provides simple, convenient solutions to any analog signal conditioning need.
Action products are in tune with the industrial environment - the real world of hard-hats, forklifts, and EMI/RFI - they are ruggedised to survive the extremes of vibration, shock, temperature and humidity that are common to the manufacturing arena.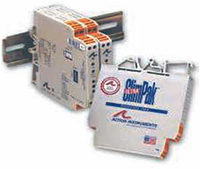 The Ultra SlimPak II Series can function as traditional standalone limit alarms and isolators, or they can simultaneously be connected to your company's intranet to monitor your signals via a standard browser when coupled with the optional WVC16 Interface unit.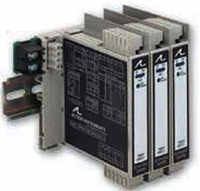 Ultra SlimPaks are high density, DIN Rail mount, setpoint limit alarm and isolating signal conditioner modules. All Ultra SlimPak modules utilise Action's advanced, ASIC-based design for field configurable input and output flexibility.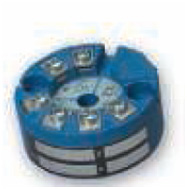 The ActionI/Q Series of signal conditioners have wide ranging field configurable inputs and outputs. These DC, RTD, T/C, potentiometer, bridge/strain gauge, AC and frequency input devices incorporate TouchCalTM technology, which simplifies calibration and allows more than 90% adjustment of zero and span.
TransPak is isolating 2-wire transmitter suitable for mounting in Thermal mounting head. TransPak is available in two variant – T280 is an isolating 2-wire transmitter for RTD Pt100, Thermocouple & mV and T287 Programmable Isolating two wire transmitters.