Intouch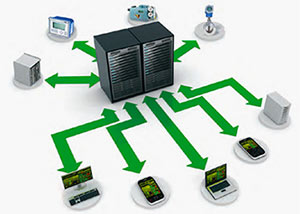 Wonderware InTouch has been the world's number one Human Machine Interface (HMI) for over 25 years and offers legendary ease of use, market leading innovation, unequalled investment protection, brilliant graphics, unsurpassed connectivity, the industry's best support and the broadest partner ecosystem.
The award-winning HMI software is an open and extensible Supervisory HMI and SCADA solution that enables the rapid creation of standardized, reusable visualization applications and deployment across an entire enterprise without having to leave the office. Used in over one-third of the world's industrial facilities, InTouch software continues to deliver business value in engineering simplicity, operational agility and real-time performance mastery. This helps drive maximum performance, increased agility, lowered costs, additional security and reduced risk.
Wonderware® InTouch® has been the world's number one human machine interface (HMI), offering market leading innovation, brilliant graphics, legendary ease of use, unsurpassed connectivity, the industry's best support and the broadest partner ecosystem. Award winning InTouch software is an open and extensible Supervisory HMI and SCADA solution that enables you to quickly create standardized, reusable visualization applications and then deploy them across your entire enterprise without having to leave your office.
Wonderware InTouch delivers truly transformational value. By improving real-time visibility into your processes, InTouch greatly improves operator effectiveness and increases control of your processes to simplify and enforce standardization and change management.
InTouch delivers a breakthrough in advanced engineering tools, delivering faster time to value, more effective HMI design, better trouble shooting, and ease of application maintenance. InTouch includes numerous new visual enhancements to improve the ability to identify and address abnormal situations before they impact operations. The powerful tools in InTouch go beyond the simplistic graphics provided by other vendors and enable application builders to focus on creating valuable content and to easily assemble effective HMI applications for simplicity, agility and performance.
While InTouch gives you the most powerful graphics tool available in any HMI, InTouch also makes it unbelievably easy to implement and encourage best practices to bring clarity, consistency and meaning to integrated data. With Wonderware InTouch, both experienced and entry-level operators are more easily able to identify, understand, react to and resolve abnormal situations, which also provides a unique solution to the industry-wide challenge of a retiring workforce.
The world's favorite HMI is also fully mobile - casual and remote web HMI and Mobile SCADA users can now view and control real-time plant floor operations data using a secure web browser from just about any "Smart" device such as tablets and smartphones.
In today's modern industrial facilities there is a myriad of data sources — from field devices, to PLCs to full blown Distributed Control Systems (DCS). InTouch has been the leader in open systems since 1987 and has earned its reputation by connecting to more plant floor devices and systems than anyone. Industrial plants across the globe use InTouch instead of the software provided by their PLC suppliers. InTouch can connect to hundreds of available I/O and OPC servers and the Wonderware DA Server toolkit allows you to easily create specialized data servers if needed. No data is off limits to InTouch.
The unique features of Wonderware InTouch deliver highly contextualized and interpretive visual content and the most effective HMI applications and user interfaces for standardization, consistency, situational awareness and abnormal situation management. InTouch supports Microsoft integrated security, Active Directory and Smart Card technology. Within regulated and validated industries, InTouch applications help you meet the most stringent security requirements such as FDA 21 CFR Part 11. InTouch supports the latest Microsoft and VMware virtualization technologies to minimize downtime and keep you in control.
Wonderware InTouch can be deployed to meet your specific requirements, from the traditional control room implementation with one or more monitors, to panel displays at an equipment location or manufacturing cell, to even a mobile operator moving through the facility using a tablet or smartphone.
InTouch Access Anywhere is a feature that provides access to InTouch applications via HTML5-compliant web browsers to enable visualization, collaboration and execution at various levels of the organization with zero client installation, zero maintenance and which enables users to securely troubleshoot plant equipment from any location, on any device at any time.
InTouch applications can be deployed remotely — no need to travel to install a new or updated InTouch application. Centralized application management via the Wonderware Integrated Development Environment (IDE), now included with InTouch, makes it easy to keep InTouch applications up-to-date and running trouble-free.
Virtualization is a hot topic today, and can save you a significant amount in convenience and hardware costs. No one in the industry offers more virtualization options than Wonderware, including the latest Microsoft® virtualization technology, Hyper-V and VMware. InTouch leverages Hyper-V and VMware so you can set up redundant HMI applications locally or at a remote site for more cost effective high availability and disaster recovery options.